Reel Kids Fishing Derby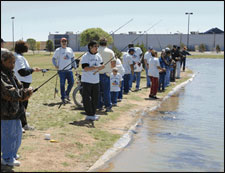 In 2004, Mike Allen thought the best way to honor Allen Orthotics & Prosthetics' 50th anniversary would by having a fishing derby for children with physical challenges. After all, children were the primary reason his father had established the practice in 1954. What was intended as a one time celebration, has turned into an annual event, hosted each spring.
Kids from all over the Permian Basin with limb loss, cerebral palsy, spina bifida and other disabilities, as well as residents of MARC, Midland Association for Retarded Citizens, have attended every year. Many have taken their catch home with them and enjoyed the fish for dinner while others have caught and released their fish.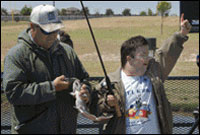 The derby has been supported by the Permian Basin Chapter of the Texas Game Wardens Association who have provided loaner rods and reels for anyone wishing to fish. The Inland Fisheries Division of Texas Parks and Wildlife Department have stocked hundreds of catfish, with a few weighing upwards of two pounds.
The Parks and Recreations Department and Mayor of the City of Midland have helped every year by closing the pond for the Derby to assure the participants have full access. Academy Sports, Albertson's, B&W Chemical Toilets, HEB, Mark Swindler Photography, Sam's Club, Shakespeare, Wal-Mart and others have donated food for lunch and fishing equipment.